With a business plan in place, it's now time to build team cohesion – from the core Leadership Team all the way down. Typically leaders will face the reality that their leadership bench is not strong enough, or their culture is not ready for change. These are the barriers and obstacles you have to break down to break through.
Commitment
Are your expectations and promises clear?
Leadership
Are you creating outcomes or reacting to circumstances?
Performance
Is your leadership team aligned with your direction and adapting to complexity?
Develop
Is your team acting on purpose and growing in leadership capacity?
Organize
Is your team designed for silos and turf battles, or to get the most out of people?
Grow
Practicing, getting traction, growing as leaders – as a unified team.
LEADERSHIP IS ABOUT CREATING OUTCOMES
THAT MATTER TO US
Leadership is a creative act of possibility. Leaders say "Follow me!" Leaders know they are responsible for contributing to the organizations capacity to create its desired future. This begins with developing leaders.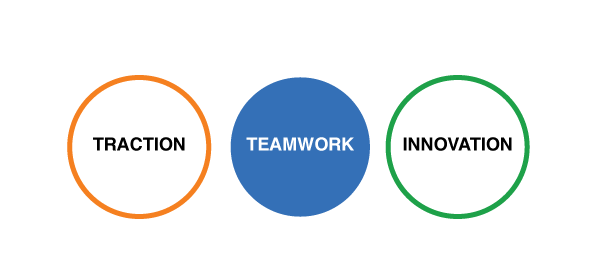 Leadership comes after Traction
Leadership development is a conversation that must be conducted within the business conversation.  Leadership work without vision risks kumbaya – it feels good, but we're not getting anywhere. We start with Traction/EOS and then we build the team's leadership capacity to support the vision.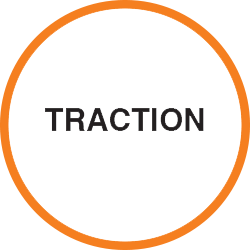 We set the business vision and plan for the future, with the entire team on the same page with the answers to the Eight Questions. Then we strengthen the Six Key Components of your business, executing with greater discipline and accountability.

Building optimal Team Health usually requires a deeper conversation about how the Leadership Team operates as a whole and as individuals. This is a creative perspective, not reactive. We are creating the future, and it's a human endeavor. We need to work out our blind spots.

Change is constant, and it's accelerating. Businesses that were strong years ago have disappeared. The ability to innovate products and services and optimize their manufacture and delivery are keys to differentiation and higher profit. This is a creativity game. Who wants it more?
People Issues
Are you getting enough out of your people & are they working as a team?
Lack of Control
Do you own your business or does your business own you?
Not Enough Profit
Are you getting the rewards for the time & effort invested into the business?
No Growth
Have you hit a ceiling & wondering how to break through to grow?
Loss of Direction
Are your team focused on the vision of the company and how you will get there?
Nothing's Working
What ever you try, nothing gets you traction.
We went from flat 5% up/down cycles to an average of 18% growth over the past three years with no obstacles, restrictions, nor limits, other than what we put on ourselves.

Robert Tokar

CEO - Wolverine Solutions Group
The EOS model is simple, powerful and yields amazing results... We've achieved clear communication and accountability and are building trust and confidence as we achieve our growth targets.

Clem Chargot & Herb Dwyer

Three C's Landscaping
The EOS tools are simple but create remarkable results when properly applied and practiced. Our business now operates with clarity, consistency, and accountability.

Glenn Miller, Dan Popp & Jeff Zilke

PM Technologies, Inc.
A company is a vehicle designed for a specific outcome. Human beings are the deciding factor in whether that outcome will come to life.
Leaders declare the vision, and through the company of people – the team – determines whether the company wins.  The top Leadership Team is the company's greatest competitive advantage.  They alone are ultimately responsible for the outcome.
A company with a clear vision – shared by the entire team – increases the possibility that their declaration will become reality.  This is a creative process.  Reacting to circumstances means that you will never be in charge of your destiny.
The company's success matters to many people, and deserves your full attention.
You're up to something.  Is the game you're playing worthy of your effort and sacrifice?  If yes, we can help you.  If no, you're going through the motions, and you're not going to be in charge for much longer.
We work with companies that realize that business is a human endeavor, and that choices drive destiny.  We support you organizing your vision, making more effective choices, and creating new possibilities.
What you're doing matters.  That's the reason we look forward to working with you.