Traction = Results
Your company can only run on one operating system. Choose EOS.
Only about 5% of leaders have the plan and structure to make their business become all it can be.
The other 95% don't.
THIS IS THE ENTREPRENEURIAL OPERATING SYSTEM
The 6 Key Components
Simplicity is the key, and complexity is your enemy. Every business has Six Key Components that make it run.
Your success is based on how well your team can strengthen the Six Key Components. The only way to confidence is disciplined practice. We will work together to build strength in these Six Key Components and catapult your business into the top 5% of performers.
EOS® gives your leadership team what they need to strengthen the Six Key Components and provides a comprehensive, proven system of simple tools that will strengthen each component and provide a comprehensive structure to how you operate day-in and day-out.
Real. Simple. Results. That's Traction!
EOS® works in any entrepreneurial company that is committed to this system and its time-tested methods and principles. This is not theory, and we're not going to be working on the "flavor of the month." Our goal is not to get deeper in your organization – our goal is to help you strengthen the Six Key Components of your business. Period.
EOS® is comprised of 3 elements

The EOS ModelTM
The EOS ModelTM highlights the Six Key Components required to run a great business. Entrepreneurs build strength in each component, intentionally running their business on one operating system. The EOS ModelTM simplifies and focuses your organization in order to realize your unique greatness.

The EOS ProcessTM
The EOS ProcessTM rolls out the entire operating system over time, to achieve sustained strength in each of the Six Key Components of your business. This is our proven structure to build sustainable success, applying the right tools at the right time to create the results you want.

The EOS ToolboxTM
Advice may be a phone call away, but practice builds confidence. We provide business leaders with a set of simple, proven tools that are the foundation of everything necessary to build a great business. The EOS ToolboxTM helps you build success in the Six Key Components, following The EOS ProcessTM.
A COMPREHENSIVE BUSINESS SYSTEM
EOS® is a comprehensive business system – an integrated, complete business model with a set of simple business tools and proven processes to align your team and get everyone in your organization rowing in the same direction, producing the results you want.
EOS® is easy to understand and use. It addresses all issues rather than dealing with problems in isolation, which then create unintended consequences. Your business is currently running on a default operating system. If you're like 95% of the business leaders we talk to, you didn't intend to run on your current OS. We're inviting you to choose something else – on purpose.
Problems are actually symptoms of the root cause. If you spot treat it, without addressing the rot behind it, the problem expands. What most businesses call problem-solving makes problems worse because they spread, creating more frustration. You must address the root cause to be a strong, healthy, profitable company with real Traction.
Our clients are entrepreneurial leadership teams at businesses with 10 to 250 employees, in any industry. We're not subject matter experts who will tell you what to do about specific disciplines or specialties. We are expert Professional EOS® Implementers who bring you an entire operating system for your business.
Once EOS® is the fully integrated system at your business, you graduate from the process and decide how long you want us there to support you. No contract, no gimmicks.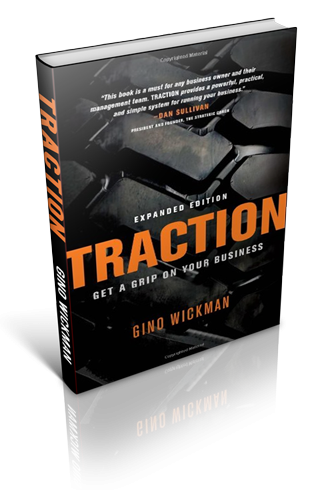 Download Your Free Chapter
Traction: Get a Grip on Your Business
By Gino Wickman
Do you have a grip on your business, or does your business have a grip on you?