LEADERSHIP IS ABOUT CREATING OUTCOMES
THAT MATTER TO US
Leadership effectiveness impacts business performance.   The strength of your Leadership Team is your greatest competitive advantage, and no one can copy it. When you step into a leadership position, you are expected to be effective – and to be more effective next year, and the next. The bar is high, and it's getting higher as the rate of change accelerates.

People Issues
Are you getting enough out of your people & are they working as a team?
Lack of Control
Do you own your business or does your business own you?
Not Enough Profit
Are you getting the rewards for the time & effort invested into the business?
No Growth
Have you hit a ceiling & wondering how to break through to grow?
Loss of Direction
Are your team focused on the vision of the company and how you will get there?
Nothing's Working
What ever you try, nothing gets you traction.
"Effective leaders outperform ineffective leaders every time."

Bill Adams

Co-Creator, Leadership System
"The rate of leadership development must (at a minimum) keep pace with the rate of change. How does our operating system keep up with – or exceed – this escalating complexity?"

Bob Anderson

Co-Creator, Leadership System
"Leaders bring the weather"

Bill Adams

Co-Creator, Leadership System
WHAT IS LEADERSHIP SYSTEM?
Leadership System is designed to develop leaders.  It is a progressive framework that challenges the collective leadership team to up their game.  It is a sequence of awareness tools and conversations designed to raise the collective consciousness of a leadership team.
THE CORE ARGUMENT: LEADERSHIP IS YOUR JOB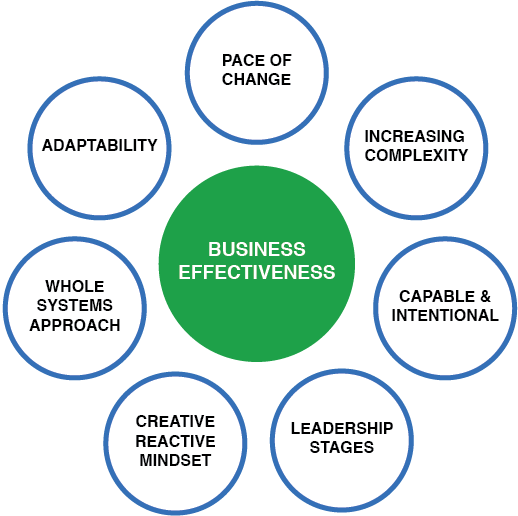 LEADERSHIP EFFECTIVENESS = BUSINESS PERFORMANCE
Are you an effective leader?
How do you know?
How much of your time goes toward developing your leadership?

PACE OF CHANGE
Effective organizations make leadership development a key focus because the business landscape is changing rapidly. You and your team are expected to keep up or you're falling behind. You have to more effective next year than you are now.

INCREASING COMPLEXITY
The business environment is becoming more complex and is changing faster and faster. Successful companies are able to adapt to these challenges and creatively respond to these dynamics. Are you evolving fast enough?

CAPABLE & INTENTIONAL
Capability is being both competent and intentional leader. Mastery involves an inner game and an outer game. The organization cannot reach a higher level of performance than the consciousness of the core Leadership Team

LEADERSHIP STAGES
Intentional leadership evolves. Intentionality is a structure, and structure determines performance. You are designed for the performance you are getting, because the inner game is running the outer game. Does your internal operating system run you, or do you run it?

CREATIVE & REACTIVE MINDSET
Creative leaders get very different results than those of reactive leaders. The Reactive mindset is run by problems, anxiety and conflict. The Creative mindset focuses on vision, design and execution. Complexity demands a Creative mindset for breakthrough results.

WHOLE SYSTEMS APPROACH
Creative leaders recognize the necessity of a systemic approach to leadership development. Leadership is the core system that determines the effectiveness of all the other systems because it is able to scale with long-term growth.

ADAPTABILITY
Awareness is the core of adaptability. What do you pay attention to? Evolution requires leaders to be intentional about their mindset and areas of focus, which allows for adjustments in pace, impact and adaptability. Effective organizations are able to adapt purposefully.
The Leadership System Overview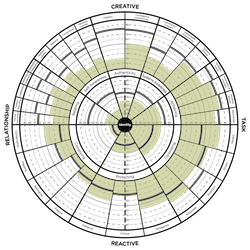 The Leadership System™ includes the following components:
Discovery and Assessment
The Leadership System™ begins by working with the Senior Team to clarify goals for collective leadership effectiveness and business performance improvement. In addition, the Senior Team strategically communicates to the organization what they are up to, why it is important, and what is going to happen. At this phase, a series of assessments are conducted that can include:
The Promise of Leadership™ Workshop
This half-day workshop frames how effective leadership translates into business performance. It functions as a kick-off for your specific configuration of The Leadership System™. It is also a powerful introduction to the Leadership Circle Profile™ 360 and establishes a framework that supports development for the long-term. It is a highly compelling and experiential workshop.
Leader to Leader™
Leader to Leader™ is a peer coaching and accountability cohort process. Each cohort is comprised of 6 to 8 senior leaders that meet monthly to coach each other and hold each other accountable for making progress on their development goals. Key business improvement issues are the focus of the development conversations. As trust builds within the cohort, feedback, coaching and peer support becomes increasingly effective. The Leader to Leader's curriculum also includes a brief and impactful leadership competency training in each module that is built upon the Leadership Circle™ Creative-Reactive framework. Each session is facilitated in person or remotely.
Pulse Surveys™
These near-real time surveys reinforce a leader's commitment to take action on their leadership development plan (One Big Thing) by inviting an accountability team (Accountability Circle) of colleagues to give that leader direct feedback on how their behavior-change experiments are working. Measurement of performance against goals is vital to the functioning of any system. Pulse Survey results are also brought into the Leader to Leader groups for discussion, peer coaching, and accountability for making further improvement.
One-on-One Coaching™
Every engagement is enhanced by one-on-one coaching. The combination of peer cohort coaching in the Leader to Leader™ adds dramatic velocity to effectiveness in leadership