Your culture has an
immune system
And it stops change in its tracks.
YOUR IMMUNITY IS IN YOUR MIND
The mind has an immune system, just like the body does.  Individuals may have worthy aspirations, but fall short.  Organizations may see opportunity for growth, but drop the ball in execution.  Optimism is important, but reality wins.  The reality is that we all have our own internal resistance to change, and it isn't from a lack of willpower.  It's from an emotional system that's designed to protect us and preserves our existing way of operating.
People Issues
Are you getting enough out of your people & are they working as a team?
Lack of Control
Do you own your business or does your business own you?
Not Enough Profit
Are you getting the rewards for the time & effort invested into the business?
No Growth
Have you hit a ceiling & wondering how to break through to grow?
Loss of Direction
Are your team focused on the vision of the company and how you will get there?
Nothing's Working
What ever you try, nothing gets you traction.
"We all know that change is hard, but we don't know enough about why it is so hard and what we can do about it."

Robert Kegan

Creator of Immunity to Change
"Better Me + Better You = Better Us"

Robert Kegan

Creator of Immunity to Change
"At the simplest level, any particular expression of the immunity to change provides us a picture of how we are systematically working against the very goal we genuinely want to achieve."

Robert Kegan

Creator of Immunity to Change
OUR MENTAL MODELS PROTECT US, BUT ALSO CAN SABOTAGE OUR GOALS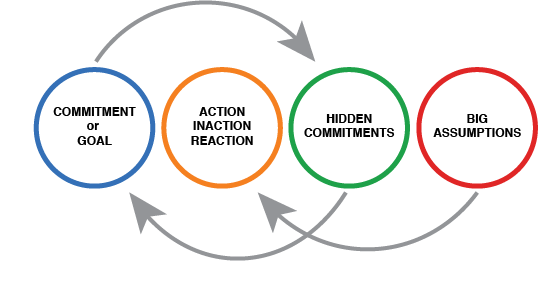 You have values and goals that create outcomes – opportunities you want to pursue. Yet your choices will work against that commitment. This is because you have a blind spot in the form of a competing commitment, which becomes a barrier. These hidden competing commitments are based on big assumptions, driven by fear. This makes the outcome you most want impossible to achieve. We do this as individuals and organizations, and it's a stop.
MASTERING YOUR IMMUNITY TO CHANGE
SUCCESS = BREAKING HIDDEN COMMITMENTS
How many times have you tried to change this?
What gets in the way?
Are you willing to be responsible for the outcomes you create?

AWARENESS
Being aware that individuals and organizations have an immunity to change that stands in the way of creating the outcomes that you most desire.

COMMITMENT
Making a powerful commitment to change, and for the right reasons. Whether a small tweak or transformative step, your commitment matters.

FIRST STEPS FORWARD
All change begins with a first step. We recommend you make the first steps small, so that you can gain facility with the process of change, not a big attachment to the outcome.

SIGNIFICANT PROGRESS
We make significant progress when we outline the milestones for our success, and we attach the progress to outcomes people can recognize.

SUCCESS
Success comes from reaching our goal, but also from uncovering the hidden commitments that are in play in this challenge, and likely in other challenges we face.